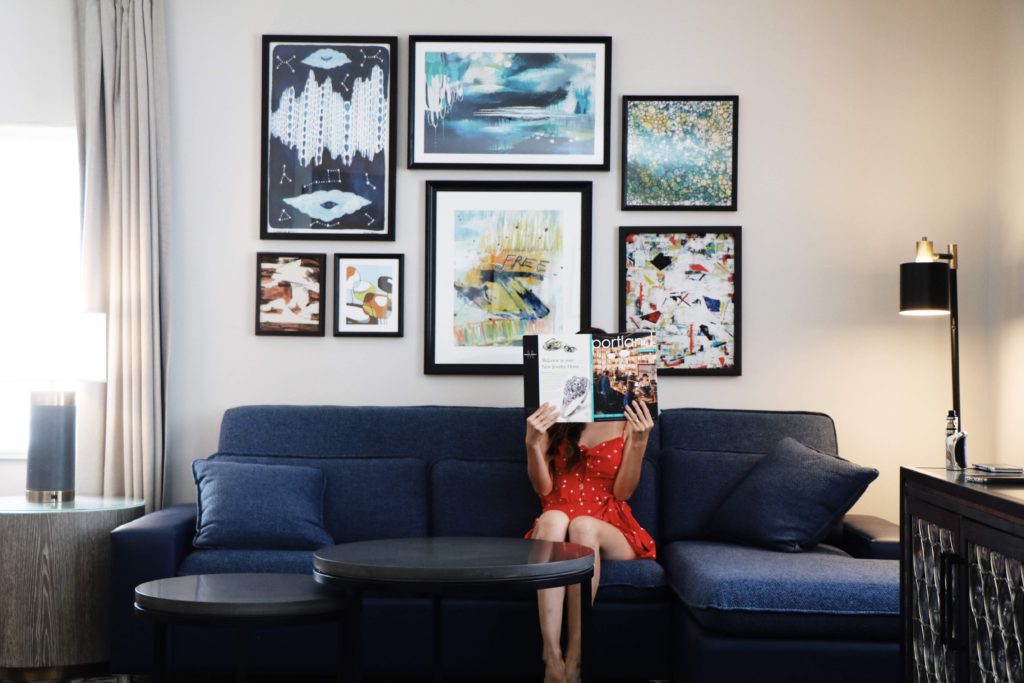 Brian and I took a quick trip to Portland, Oregon last week.  We were there for 3 days and 4 nights.
It was my first time in Portland so thought I'd write a little post about my experience and share a list of things to do and places to eat for those who are planning a trip.
Coming from LA, Portland was less busy than I expected and felt as if most of the people out and about were tourists like myself. Perhaps the lack of locals resulted from the hot weather (temperatures in the mid 90s)?  Unlike Los Angeles where the hottest time of day is around noon, Portland did not reach it's highest temperature until late afternoon around 3-5PM.  This is great if you are looking to bike around downtown, hike, or do anything more strenuous outdoors.  Start early and you have plenty of time to stay cool.
We flew into town late Thursday night so we booked a one night stay near the airport. The rest of the time we stayed at the Heathman Hotel in downtown Portland.  You can read my hotel review here.
Day #1 Outside of Portland
Because we weren't able to check in to the Heathman Hotel until the afternoon, we decided to spend our first day in Portland exploring Multnomah Falls.  Multnomah Falls is a quick 30 minute drive outside of the city.  We originally planned to hike all day but was unable due to trail closures caused by a fire a few months back.   We rented a car through Getaround. It's a peer-to-peer car sharing service that allows you to rent a car by the hour.  I will write a post about it later and will link it here when available.  It's a great option if you are like me and don't want to deal with a car rental service.
Multnomah Falls have been on my list of places to visit for a while now.  Even thought I wasn't able to take full advantage of the hiking tails, it was still beautiful to see.     Both the waterfall and parking is easily accessible, if you're heading East on freeway 84, take exit 31 directly into the parking lot.  After you park, it's a quick 5 minute walk to the waterfall.  Keep in mind that it's very touristy and get jam packed with people.  I highly suggest going early for less crowds and better photographs.  I am a hiker, so I was slightly disappointed about how easy it was to access this beautiful waterfall.  But if you are not a hiker this would be perfect for you.  No hiking gear needed to access viewing points for the waterfall. We got lunch at the Multomah Falls Lodge.  Food was average in taste and price.
Because we were unable to hike the trails, we checked out Vista House and a cute little lavender field. If you love lavender fields, and don't mind driving a little further, definitely make a stop at Lavender Valley in Mount Hood.
We ended the evening back in Portland enjoying dinner at Pok Pok
Day #2 Downtown / Southwest
Stuffed my face with Blue Star Donuts and then spent the day exploring downtown.  When in Portland, don't forget to do lots of shopping and eating because NO sales tax!  If you are looking to make a large purchase I highly suggest taking full advantage of this.  Most shops close at 6PM in Portland so be aware of that when planning out your shopping day.
The city is split up into 4 quadrants so plan all activities based on the area you are at before Ubering to the next location.
I will be sharing an organized list of activities by quadrant at the end of this post to help you get the most our of your trip.
We spent the early part of the  day shopping in the Pearl District, which has some super cute boutiques and restaurants.  and touring the Shanghai Tunnel in China town.
Day #3 NorthWest and NorthEast Portland
Last day in Portland consisted of the Japanese Garden and shopping on Missippi ave and drinks at McMenamins Kennedy School
Below is a list of things to do and places to eat in Portland organized by quadrant:
Northwest
Things to do:
Japanese Garden

International Rose Garden

Pittock Mansion- historical mansion, great views

Forest Park – woodsy walk, pretty flat

Portland Zoo

Walk on 23rd street for cute stores and restaurants
Things to eat:
Bamboo Sushi → multiple locations, get the Green Machine and Potato Killer

Salt and Straw → multiple locations (now in LA)
Northeast
Things to do:
Mississippi Ave – fun street to walk around, cute stores and restaurants

Mississippi Studios (music venue)

Alberta Street – cute shops and restaurants
Things to eat and drink:
Tasty n Sons

Broder Nord → Scandinavian

Screen Door → southern food, fried chicken

Tin Shed →

brunch

Lovely 50/50s → good pizza and ice cream

Bluestar Donuts → multiple locations (now in LA)

Por Que No 

→ Tacos
McMenamins Kennedy School → a real elementary school turned into a hotel/bar/restaurant

Angel face → bar, custom cocktails

Interurban → bar

Proud Mary → coffee, Australian
Southeast
Things to do:
Hawthorne Ave – eclectic street to walk around

Division Street – vintage shops and restaurants
Things to eat and drink:
Lauretta Jean's → pie and country style breakfast

Bollywood Theater → multiple locations, trendy Indian street food

Ava Gene's → nice Italian

Tusk → middle eastern
Southwest/ Downtown
Things to do:
Powell's Books

Ride cable car up to the children's hospital → short ride, amazing views, cheap

Saturday Market (open Saturday's and Sunday's under the bridge by the river)

Sellwood park (river-front park and beach)

Shanghai Tunnel
Things to eat and drink:
Mothers → typical brunch food, but cute

Voodoo Donuts → tourist attraction ( in LA)

Blue Star Donuts (in LA)
Pok Pok (multiple locations)
Coffee at Stumptown at Ace Hotel
Outside of the City (need to rent a car)
Multnomah falls- gorgeous hiking

30-40 min east of portland

Vista House

Oregon Coast – beautiful beaches, cute beach town

Astoria – cute seaside/hillside town, picturesque (where the filmed Goonies and Kindergarten Cop)

Mt. Hood -hiking, site-seeing, mountain lodge, Lavender Valley
Have you been to Portland?  Is there is anything you recommend?  Share in comments below!