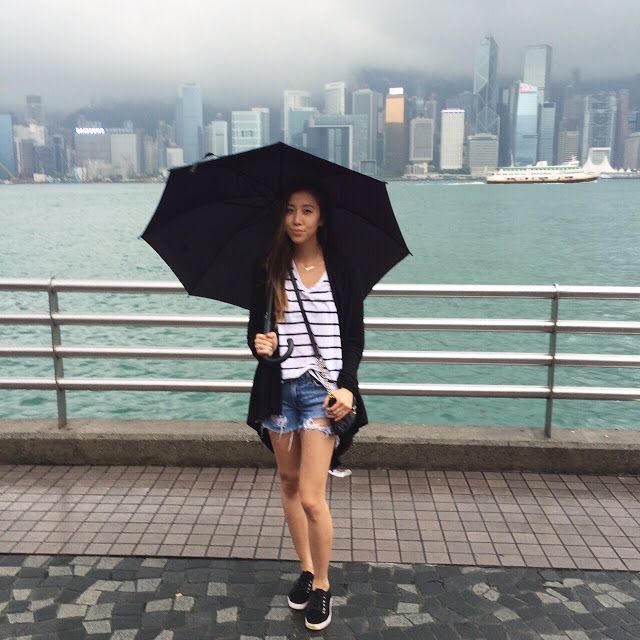 Spent 3 days in Hong Kong.
It's was foggy and raining
the entire time, but that didn't stop me! I had
quite an adventure.
A recap and hopefully some helpful tips if you are planning a visit!


Day 1:
I arrived in Hong Kong Airport
in the Morning. It's a pretty
nice airport with free wifi, so if you don't have your phone set up with international use, you can utilize it to contact people or look up places you need to go. Everyone speaks English and signs are also in
English, so it's pretty easy to get around.
Hong Kong Airport is located on Lantau Island, so I had to take a taxi to my hotel which is located at Tsim Sha Chui (also known as Kowloon). The drive was about 35 minutes and cost about $280 HK. I stayed at The Intercontinental Hotel. You can read my post about it HERE.
I spent the day exploring the area around my hotel. Tsim sha chui is one of the major
shopping destinations in Hong Kong, so even with the rain, the streets were crowded. Prada,
Chanel, Louis Vuitton lined the streets with people waiting in line to shop.
After shopping and food, I walked the Avenue of Stars.
It is similar to our Hollywood walk of Fame, except with a much better view. The Avenue of the Stars runs around the edge of the Victoria Harbor. There is also a light show that happens every night at 8pm and runs about 15 minutes.




Day 2:
After a night of rest I thought it would be a good day to venture out and see Victoria Peak. The Peak is located on Hong Kong Island and has a gorgeous panorama view of the city. I took the train across the harbor and walked to the Peak tram. The train takes about 5 minutes to get across the harbor.
You can also take the ferry or a taxi across the Harbor.
On my way to the Peak, I stopped at Hong Kong Park, and the Botanical Garden. If you have time, they are both beautiful places to walk around.
I took the tram up to the peak because I was told the view is stunning and a must see. However, it was so foggy that day, there was NO VIEW AT ALL. A tad bit disappointed, I decided to hike up to the garden anyways. Even though I couldn't see anything past 3 feet in front of me, the hike was beautiful (slightly eerie). There was no one on the hike, just nature, myself and the fog. Somehow, I stumbled across a beautiful garden (photo above).
After deciding to join civilization again, I ended the night in Lan Kwai Fong. LKF seemed to be where everyone goes at night. The area is full of amazing restaurants and bars. They all have fabulous happy hours.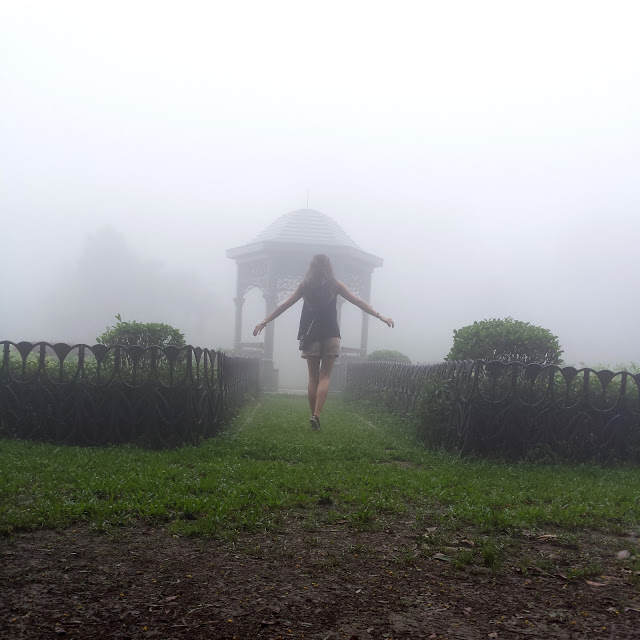 A Garden at Victoria Peak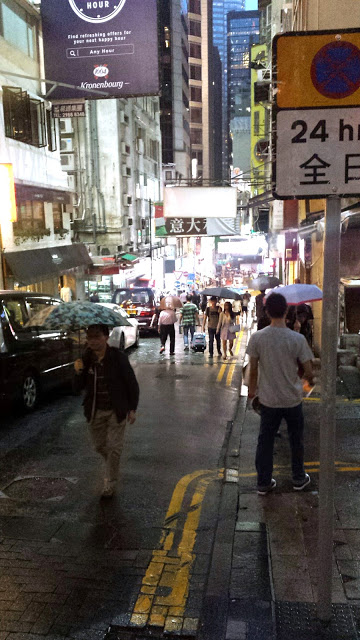 Lan Kwai Fong
Day 3:
It was pouring! But I
was not going to let that stop me!
I enjoyed a nice brunch at Din Tai Fung ( I would say it's
pretty close to the one here in LA, but with a much larger selection), then made my way to Lamma Island. It's a gorgeous fishermans island, and there
are two beaches that the ferry takes you to Sok Kwu Wan and Yung Shue Wan. My plan was to ferry to Yung Shue Wan and
hike to Sok Kwu Wan, then ferry back to Hong Kong. The hike is said to be absolutely
gorgeous! However…. It
poured, thundered and lightninged instead, and all I could do was have a cup of coffee
at a local restaurant and go back on the next ferry.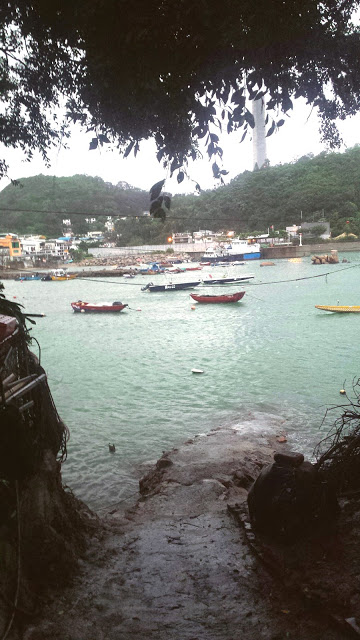 Lamma Isand- Yung Shue Wan
Din Tai Fung
Overall it was a nice visit, next time I will plan a trip in September, when it's less rainy.
The next visit, I am definitely going back to the Peak (when
there is no Fog), and hiking Lamma Island (when it's not raining)
Other places to visit:
The Big Buddha
Ngong Ping 360
Cheung Chau Island
Kowloon walled city
Would love to hear ideas on where to go for next time!